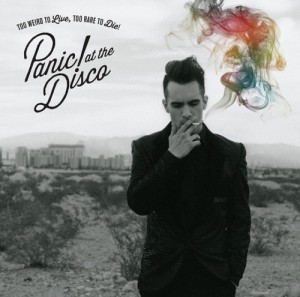 Panic! At The Disco's latest album Too Weird To Live, Too Rare To Die is a rock and techno album that is a departure from their last two records. On this record, fans will hear a band expanding their sound to reinvent themselves. Formed in 2004 by drummer Spencer Smith and singer Brendon Urie the group signed to Decaydence Records, owned by Pete Wentz of Fall Out Boy. The band sent Wentz a link to their music on their Purevolume page thorough Livejournal, an online journaling site on a whim. Soon after, the band met with him and signed them soon after hearing them perform. At the time of their meeting, Panic! did not having any experience performing live due to the members being too young for venues in their hometown of Las Vegas. Their debut album A Fever You Can't Sweat Out, took off slowly, debuting on the Billboard Charts at 112, but would eventually go on to be their best selling album. The band would continue to expand their sound with their second and third albums Pretty Odd (2008) and Vices and Virtues (2009), which both having pop and rock influence, with each album being a departure in musical style from the previous record. 
Too Weird To Live, Too Rare To Die, is once again going in a new direction. Heavily inspired by the 1980's and Las Vegas, Too Weird…has a lot of flash and glitz while still maintaining a rock and roll base. The album's lead single, "Miss Jackson" is the first inkling that Panic! At The Disco are looking to grow and mature with a sound that is much larger than any of their previous songs. Instead of growing musically though, we get a song that sounds very similar to the Fall Out Boy tune "My Songs What Your Songs Did In The Dark (Light Em Up"), off of their record Save Rock and Roll. With its slick production, and loud chants of "hey, hey, hey", the song is not a good example of growth. The album's second single, "This Is Gospel" is stronger than "Miss Jackson", and should have been the song to open the record. With an intro that sounds like an opening to a Broadway musical, the song kicks into overdrive, with its huge chorus and catchy melodies that Urie can pull off with his great voice. Once the band stops playing rock and roll, they switch entirely to being a techno band, and the new sound works for Panic!. "Casual Affair" is an electrifying song that molds together different sounds making it seem like the song could have been on either  A Fever You Can't Sweat Out and Too Weird To Live, Too Rare To Die. For this song, the band takes fans on a trip down memory lane, crafting a song that brings electronic sounds together, with a piano part that is reminiscent of the vaudeville sounding pianos on A Fever... The only ones who won't like the sound of "Casual Affair" are people who weren't fans of the band in the first place.
"Collar Full" is a song that intermingles dance music with a rock and roll edge. The music video for the track shows a more dingy side of Las Vegas, with the viewer catching a glimpse of the flashing lights and the glamorous feeling one gets when visiting Vegas. This imagery brings the song to life, as the song is just as big as the city itself. Though it ends abruptly, it has the same upbeat tempo as "Let's Kill Tonight" on Vices and Virtues. The album ends with "The End of All Things", a piano ballad which brings the listener down from the high the band has given them. Urie's delicate and soulful singing is a nice breather from the electronic rock sound the band now has once again adopted. The band has continually changed over the years in order to keep the band successful, and this is the key to their longevity as a group. Their consistent change of style isn't keeping fans away and it continues keeping critics rooting for them.