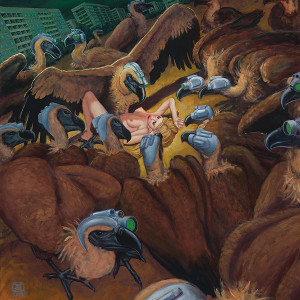 Protest The Hero, a metal band from Whitby, Ontario, Canada has released Volition, their fourth studio album, which is full of colorful and blazing guitar parts, with Lamb of God drummer Chris Adler filling in, after the group's former drummer Moe Carlson left the band. Vocals from Rody Walker have enough highs, lows, screams, and growls within his vocal range to make the band sound fresh and original.  Throughout the bands twelve year career they have released four albums that showcase a young band that pack a lot of talent, punch, and power into their songs.  While the music is fast and furious, Protest The Hero makes metal music seem different, by thinking outside the box of their genre. On Volition, musical risks include instruments such as fiddles, pianos, and violins to make their unique brand of metal all of their own.
 Formed in 2001 when the band members were thirteen years old, their first album Kezia was released in 2004, to critical acclaim and set the band on the road for continued success.  Known for packing passion into every second of their songs, Protest The Hero has been able to keep their fans interested, and newcomers wanting to hear more.  Volition keeps the passion rolling as they treat fans to fifty four minutes of music that is brutally skillful and hard hitting. Tunes such as "Drumhead Trial" is a song that shreds and hits fans hard. The guitars in the song are the highlight, as one realizes just how skilled guitarists Luke Hoskin and Tim Millar are. Playing blazing riffs that will put most guitarists to shame, the group's love of music bleeds through the song, and one wonders how to pick up the pieces after going on the roller coaster ride of "Drumhead Trial."
"Clarity", which was pre released as a sample of the album to come, is a highlight due to session drummer Chris Adler, who fits right at home with Protest The Hero and their sound.  Adler commands the song with his tight and comfortable drum playing.  While Adler is not an official member of the band, he would be a good fit musically for the band since he writes drum parts that fit in perfectly with the rest of the music.
"Skies", shows a slightly different side of the band. After the band gets done playing with explosive energy, Luke starts a delicate finger plucking guitar riff that shows a softer side of the band that you would not expect. The album also features Whitby folk singer Jadea Kelly on numerous tracks on the album including "Plato's Tripartite", where she is featured singing alongside Walker, with a light acoustic guitar. Adding beauty to the song, this short break in the musical sound is a highlight of Volition. These small changes, while not huge, free the band from being labeled as just another metal group, and instead their talent will win them fans, and credibility among those who might be quick to write them off as just another metal act.